Restoration Of The Paramount Theatre
After its initial brief blaze of "movie palace" glory in the 1930s, this remarkable auditorium suffered three decades of neglect and decline until its rescue by the Oakland Symphony, the City of Oakland, and numerous private donors. The building was purchased by the Board of Directors of the Oakland Symphony Orchestra Association in 1972. A painstaking and authentic restoration was completed in 1973 and the theatre was entered into the National Register of Historic Places on August 14th of that year.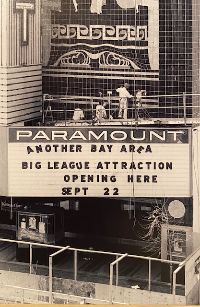 In 1975 the City of Oakland, the present owner, assumed ownership from the Oakland Symphony Orchestra Association. The Paramount Theatre became a California Registered Historic Landmark in 1976, and on May 5, 1977, was declared a National Historic Landmark.
Restored to its original splendor, meticulously maintained, and fully upgraded to modern technical standards, the Paramount now serves all the arts. The Paramount Theatre is the home of the Oakland Symphony and, as one of the San Francisco Bay Area's premiere performing arts facilities, hosts a year-round schedule of popular music concerts, variety shows, and theatre.