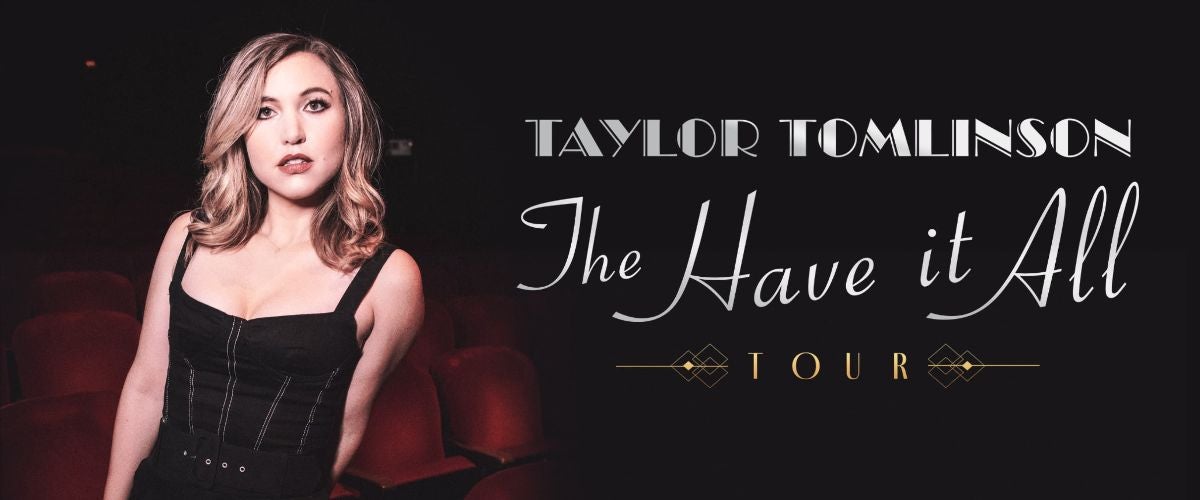 Outback Presents
Taylor Tomlinson: The Have It All Tour
All ages require a ticket; no children under 2 years.
Date

May

13

| 2023

Event Starts

9:30 PM

Doors Open

1 HOUR PRIOR TO THE SHOW

Ticket Prices

$59.75, $39.75, $29.75

On Sale

On Sale Now
Event Details
As her new hour-long Netflix special "Look At You" tops critics lists for 2022, comedian Taylor Tomlinson is bringing her unflinching candor and biting wit to theaters on The Have it All Tour.

"This new hour is all about how frustrating it can be trying to have both personal and professional success. So often your personal life is going well, but your career won't take off," shares Tomlinson. "Or your career is going well, but your relationships don't work out. Everyone wants what they don't have, the grass is always greener, blah blah blah. Basically, it's about figuring out if you can 'have it all' or if you're expecting too much."

Vulture notes, "Watching Tomlinson gives you the same comfort as a [Taylor] Swift concert or a Broadway show that's been on for years. This is a professional. This performance will be ultraproduced. You do not need to be anxious."

Times' critic Jason Zinoman adds, Tomlinson's gift is "making weighty subjects come off as breezy. There's no way 'night terrors, panic attacks, bipolar disorder, a dead mother and a disturbingly blunt father, along with suicidal thoughts, should seem this delightful,'" he adds, noting that doing so requires skill and savvy well beyond her years.