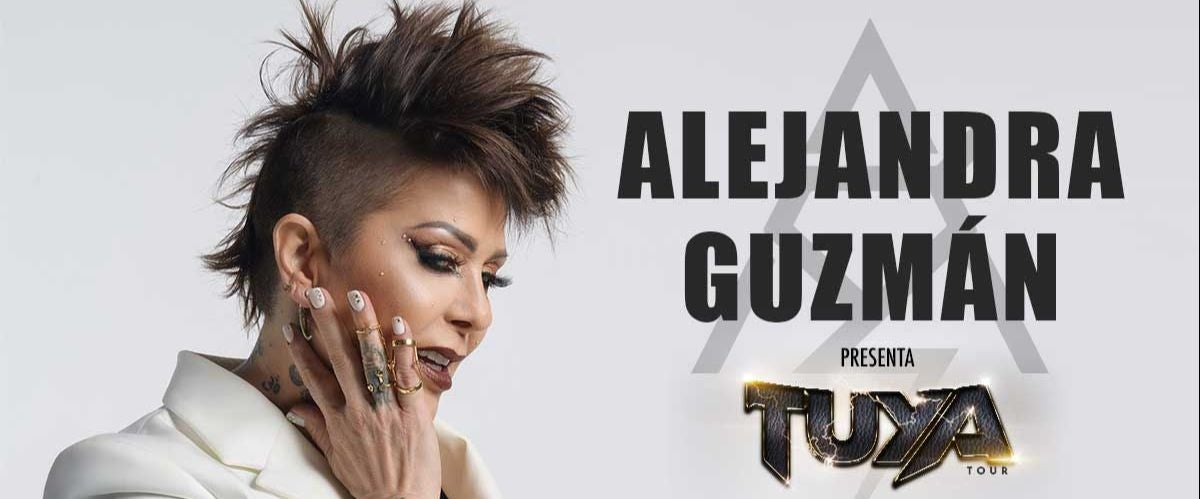 Nederlander Presents
Alejandra Guzman
All ages require a ticket; no children under 2 years.
Date

Dec

1

| 2022

Event Starts

8:00 PM

Doors Open

1 HOUR PRIOR TO THE SHOW

Ticket Prices

$120.50, $99.50, $89.50, $79.50, $59.50

On Sale

On Sale Now
Event Details
All ages require a ticket; no children under 2 years.
With sold-out dates in Mexico, Alejandra Guzmán, is ready to bring the "Tuya Tour" stateside, a world class, phenomenal production that has fans elated. A show as only the "Madonna of Latin America" can deliver.
With well over 25 million records sold in a career spanning three decades, singer and songwriter Alejandra Guzmán is known internationally as "La Guzmán" and is beloved for her powerful raspy contralto, frank explicit lyrics and over-the-top stage shows. Guzmán is also a lauded television, film, and stage actress. In 2020, she began a new creative period in her career, marked by changing her management to All Parts Move in Miami. This fruitful relationship has resulted in her starring role in the Amazon/Pantaya Original Series El Juego de las Llaves, her stunning film track "Sexo, Pudor y Lagrimas," as well as composing and releasing 4 singles over the last year alone, including the lauded single and video, "El Lado Oscuro". Her next single TUYA is coming out in October.
La Guzman's nationwide Perrisimas tour was a major success with sold out shows all over the U.S. And last month she performed the first the first sold out TUYA Tour Arena shows in Mexico City and Monterrey.
La Guzmán continues nonstop and is confirmed to perform at the Hispanic Heritage Foundation Celebration on Tuesday September 26, 2022 in Washington D.C. and at the 2022 Billboard Latin Music Awards on Telemundo set to take place Thursday, September 29, 2022, before continuing on with her all new "Tuya Tour" in Mexico.
Con fechas agotadas en México, Alejandra Guzmán, está lista para traer el "Tuya Tour" a los Estados Unidos, una producción fenomenal de clase mundial que tiene a los fans eufóricos. Un espectáculo como sólo la "Madonna de América Latina" puede ofrecer.
Con más de 25 millones de discos vendidos a lo largo de tres décadas de carrera, la cantante y compositora Alejandra Guzmán es conocida internacionalmente como "La Guzmán" y es muy apreciada por su potente contralto ronco, sus letras francamente explícitas y sus extravagantes espectáculos. Guzmán es también una alabada actriz de televisión, cine y teatro. En 2020, comenzó una nueva etapa creativa en su carrera, marcada por el cambio de su equipo a All Parts Move en Miami. Esta fructífera relación ha dado como resultado su papel protagonista en la serie original de Amazon/Pantaya "El Juego de las Llaves", su impactante tema cinematográfico "Sexo, Pudor y Lagrimas," además de componer y lanzar 4 sencillos sólo en el último año, incluyendo el elogiado sencillo y video, "El Lado Oscuro". Su próximo sencillo, TUYA, saldrá en octubre.
La gira nacional de La Guzman, Perrisimas Tour, junto a Paulina Rubio fue un gran éxito con presentaciones agotadas en todo Estados Unidos, y el mes pasado realizó conciertos como parte de su nueva gira "Tuya Tour" con entradas agotadas en las Arenas en la Ciudad de México y Monterrey.
La Guzmán sigue sin parar y está confirmada para presentarse en la Celebración de la Fundación de la Herencia Hispana este martes 26 de septiembre de 2022 en Washington D.C. y en la entrega de los Premios Billboard de la Música Latina 2022 en Telemundo que tendrá lugar el jueves 29 de septiembre de 2022, antes de continuar con su nueva gira "Tuya Tour" en México.